In 1931 Henry Ford drove the twentieth million ford Model A of the assembly line.the landmark car was driven by Col. C.D. Hilton on a promotional tour where it received honors from Americans across the country.
The tour made stops in Nashville, Franklin, Lebanon and Murfreesboro.  It was a big event when the car came through, schools were out for the day , parades and marching bands. Luckily this footage was captured on film so we get a glimpse of how those towns looked then via moving images.  You can see the film below.
In the film, the twenty millionth Ford parked at the steps of War Memorial building. A crowd gathers around the car. Men come out of the building and come down the steps to the car. The men shake hands. A man signs a register. The twenty millionth Ford driven off. The car parked at the base of the steps of a building. Men reach into the back seat for log book. The men shake hands. One of them holds the license plate '20 millionth' and signs the log.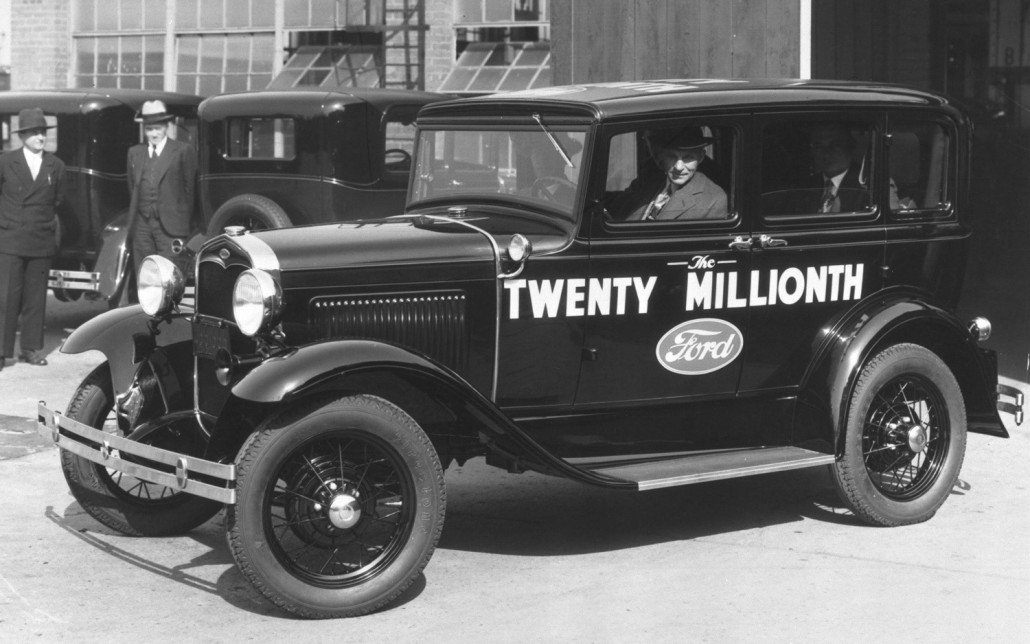 Throughout its tour, the 20 Millionth Ford racked miles from New York to the West Coast, then to the south and finally back to Dearborn, Mich. Once home, it was housed in Dearborn's Ford Museum for 10 years. After its decade-long stay, Ford sold the special Town Sedan to current owner Rod Liimatainen's father for $550, just $80 less than the model's original $630 base price. When Liimatainen's father bought the car, he had full knowledge of the car's star-studded past despite the fact Ford had tried to brush away the car's past by painting over the giant white lettering that proclaimed the car's heritage.
While the vehicle was thought to have been destroyed in a museum warehouse fire in the late 1930s, along with several of the Ford's milestone vehicles, it was actually sold in the 1940s to an individual who took it to Michigan's upper peninsula. It had been stored it in a garage there until it was discovered in 2000. Because of the vehicle's distinguished history, Ford agreed to finance the frame-off restoration with the agreement the company could use the vehicle for displays and exhibitions over the next ten years.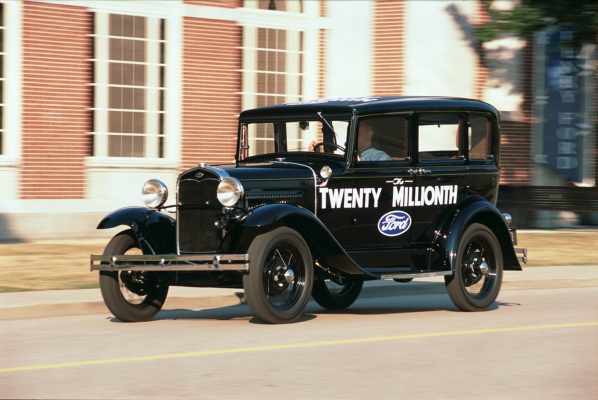 During the full restoration process, which was handled by an expert in vintage automobile restoration, the serial number A20,000,000 was uncovered. Further proof of authenticity came when the paint was stripped off revealing evidence of the "twenty millionth" lettering that was originally on the car doors.
http://www.oldcarsweekly.com/collector-cars/pre-war-classics/the-20-millionth-ford-%E2%80%94-a-1931-model-a-%E2%80%94%C2%A0will-lead-2012-mafca-tour