A grandmother made the catch of a lifetime while fishing on a Monday afternoon at Cherokee Lake in near Morristown.
Bonnie Rucker has been spending her afternoon with her husband fishing together for almost 50 years. However on that Monday afternoon It only took Rucker about 30 minutes to land the 39 inch, 31 pound Buffalo Carp.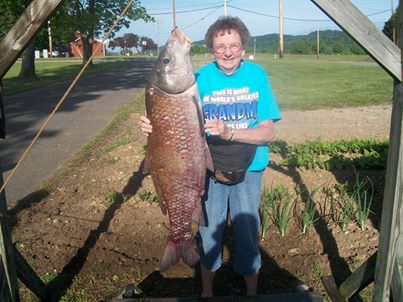 While it is a large carp, it is only half of the record sized carp of 79 pounds caught by a 13 year old boy in Wisconsin. A Mt. Juliet, Tennessee, man is in the record books for catching a 62-pound bigmouth buffalo while fishing on Percy Priest Lake. The fish, caught by Jeff Wilkins in late March, was 45 inches  in length and snagged in the Seven Points area of the lake. The Tennessee Wildlife Resources Agency said it took him 35 minutes to reel in the fish. 
They should give Bonnie a recorded weight adjustment just for the feat of pulling in such large fish, seniors and women get closer tee boxes in golf.
"I was exhausted! I just plopped down in my chair when I got him in," Rucker explained.
Rucker said her secret is using redworms, setting the pole down once the line is cast, and just waiting for the fish to bite.
"You let him wear himself out," Rucker said.
Rucker is a 68 year-old grandmother who still works three days a week, but gets out to her favorite fishing hole at least as many days.
"When you have a bad day at work, you can come and fish and forget it," Rucker said.