Last month in Columbia, TN, Fedex accidentally demoed their new driverless van, much to the enjoyment of the neighborhood dogs.  The new driverless van is limited in distance but in seems to have pretty accurate steering, especially when traveling in reverse, with only some minor damage to the vehicle.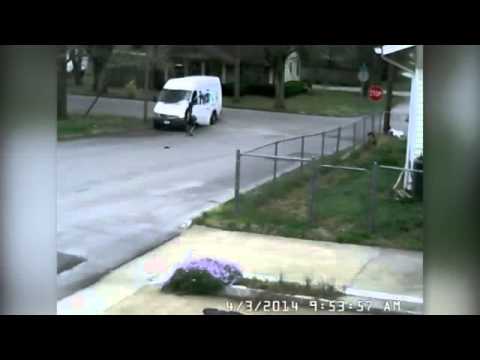 The exasperated FedEx deliveryman is seen running alongside the van trying to regain control before losing track of it. The van narrowly misses a tree before coming to a stop against a fence, after which the driver runs to assess the damage.
The driver of a Fed Ex van that crashed in Maury County says he thought the van was in park but wasn't. A neighbor's security camera recorded Casey Wilson trying to get back in the van as it rolled down Stewart Street in Columbia, across 4th Street. No one was hurt.
Fedex released a statement Monday saying it was grateful no one was injured and that it is working with the homeowner whose fence was knocked down. Fedex has already begun working on improvements in its driverless van project and hope to have a version two sometime in the near future. Version two will introduce the forward driving feature and hopefully reduce the possibility of door damage.