From the seriously offbeat files-
Shona Carter-Brooks married Johnathan Brooks in Ripley, Tenn., last weekend and the couple honored their one-month-old daughter, Aubrey, by strapping her to the dress train. Baby Aubrey was attached to what is thought to be a dress from Vera Wang's diffusion line, White, however the dress appears to have been altered to carry the infant.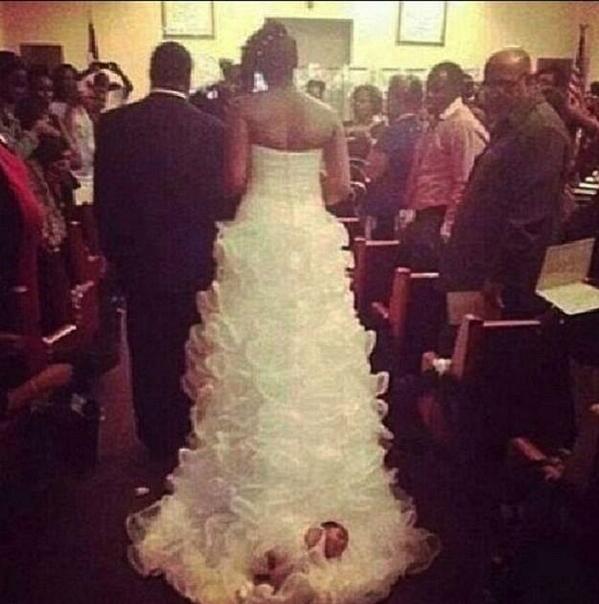 The bride is very defiant to all naysayers on her Facebook page.  Shona wrote, "The answer is we do what we want when we want long as Jesus on our side everything worked out fine and gone continue to be fine. Our 1 month old was awake and well secured on my train. Most important while yall got ya feelings in us we had our hearts in Christ which covers all!! So keep ya mouths running for it was just that Exclusive and Epic enough we made top blog way from small town Ripley, TN and the social media doing what they do, TALK!!!!"
The dress was purchased from David's Bridal in Jackson, but I imagine the baby alterations would need to be done somewhere else.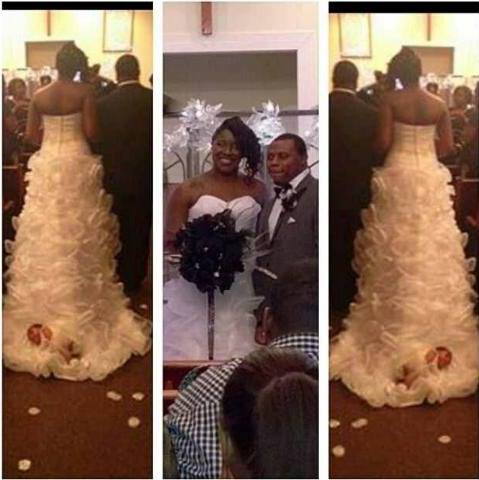 The added wedding dress train accesory went over well with some of the attendees at the ceremony from their comments afterwords.
Shona and Johnathan Brooks your wedding was super perfect from the groom and his men and you and your diva's baby you rock the gown and the princess tagging behind you it brought tears to my eyes.
For the record, Shona states said her daughter was 'well-secured on my train'
Side note to the national media Ripley is just outside of Nashville, as much as Boston is just outside of New York. Ripley is just outside of Memphis, if you had to pick a city.