Horace Burgess began building this treehouse in the 1990s when one of the bigger trees on his property caught his eye.  After spending many years on the treehouse he ran out of supplies. He then became a minister and he said "Then I turned my life over to God," Horace recalled. "And the spirit of God said, 'If you build Me a tree house, I'll never let you run out of material.'"
World's Largest Treehouse
Located just outside of Crossville, Tennessee, the 97-foot-tall tree house and church is supported by a still-living 80-foot-tall white oak tree with a 12-foot diameter base, relying on six other oaks for support. It is the world's largest treehouse.
Currently, his treehouse is 90 feet tall, said to contain 80 rooms, and stretch up to five stories, complete with a church and a bell tower. The bell tower at the top of the treehouse is equipped with oxygen acetylene bottles that, repurposed as bells, chime daily.
Visitors have done far worse to the tree house than they have to themselves. Since Horace stopped new construction in 2004, nearly every square foot of the structure has been vandalized with graffiti, some of it praising God and Jesus ("I don't know how to take that," Horace said). Flooring has been ripped out, windows smashed, furniture hurled from balconies. "I have to remind myself that it is a tree house," said Horace, who feels that it somehow triggers people to act like horrid eight-year-olds. "That's why I've never prosecuted anyone for bustin' the stuff up."
After working on the treehouse for eleven years he achieved his dream of the largest treehouse in the world
The Treehouse is built entirely out of recycled wood and material
Hard work: The entire house took more than 268,000 nails to build – and a lot of elbow grease

Burgess has already devoted $14,000 and many, many hours to constructing the house. He does occasionally get help from volunteers.
"It really couldn't have been a whole lot different than when Noah got his instructions to build the ark," Burgess said in the video about his spiritual inspiration.
When he's not hammering and sawing, Burgess is a minister. The third floor of the treehouse is a sanctuary that doubles as a basketball court.
Closure
The treehouse has been closed by the Tennessee Fire Marshall, who says that it's a tourist attraction and therefore must conform to state building codes. Horace says that it's a treehouse, and there are no codes for a treehouse. And it's proven to be well-built despite the footfalls of thousands of visitors over 20 years. For now, however, the gate to its driveway is locked.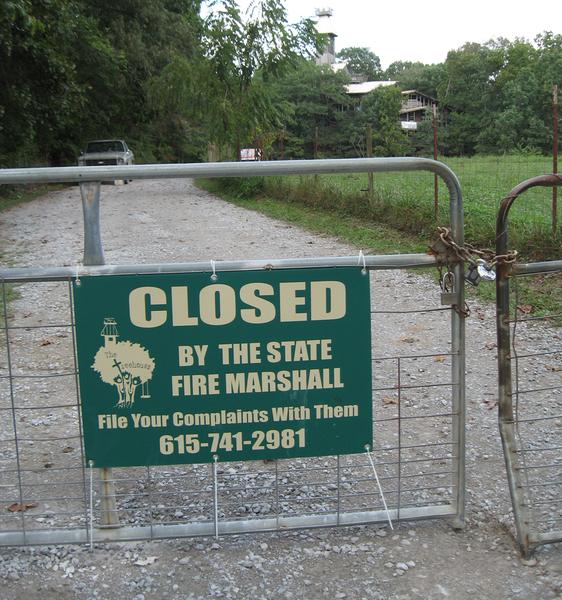 Burgess says about 1,000 people per week visited his 100-foot-tall tree house. Many fans have pitched together to try and help Burgess reopen his tree house, including 2,815 members of a Facebook group entitled 'Minister's Tree House Petition.'
http://www.atlasobscura.com/places/minister-s-tree-house