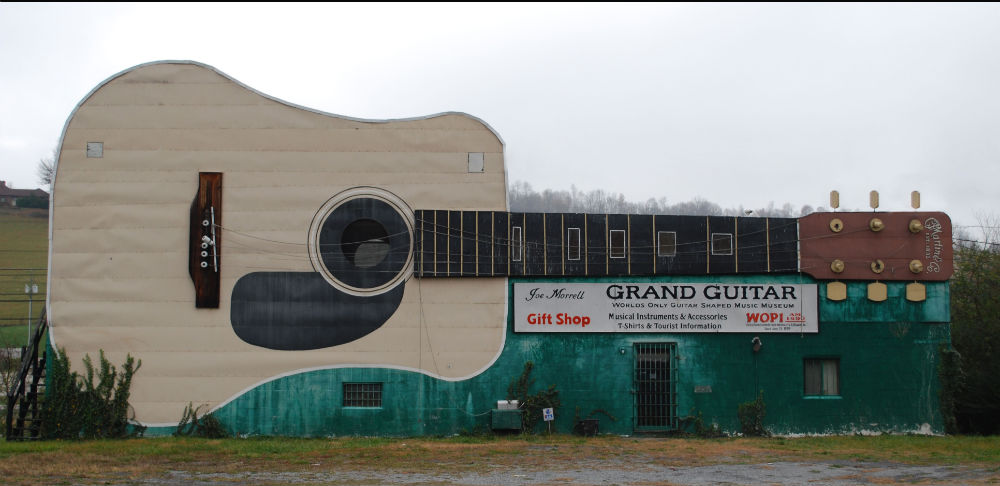 WOPI-AM Radio is the Northeast Tennessee / Southwest Virginia area's first broadcast station. Indeed it was the first station between Knoxville and Roanoke. WOPI signed on the air on June 15, 1929, from its original combined studio and transmitter site located at State and 22nd Streets in Bristol, Tennessee. The first broadcast occurred at 6:30 PM and featured the Kingsport Concert Band, and like most broadcasts in those days, it was "live." The station's call letters stood for "Watch Our Popularity Increase," and in almost seventy years, those call letters have never been changed, an unusual circumstance in these days when many radio stations seem to change call letters on a regular basis.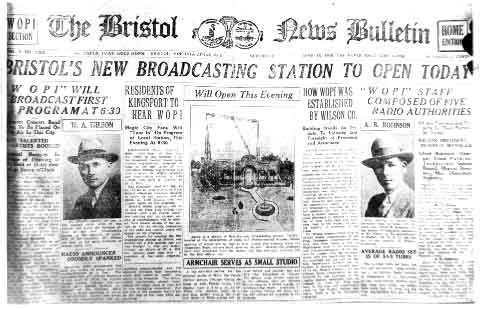 WOPI's founder and original owner was W.A.Wilson, a former chief telegraph operator for Western Union's Bristol office. The idea of constructing a radio station in Bristol was born while Wilson operated Wilson Radiophone Service Company from 1921 to 1928, selling and installing receivers for the new medium. (Mr. Wilson's son, James C. Wilson, worked at the station in his youth and later bought the Tri-Cities second oldest station, WJHL, Johnson City, and renamed it WJCW).
Following a succession of owners, the last of which fell into bankruptcy, WOPI was purchased in 1990 by Joe Morrell, Incorporated, owned by long time local musician and music store owner, the late Joe Morrell. in 1983, owner Joe Morrell built this three story, 70 foot long Martin guitar. The Grand Guitar Museum within exhibits rare instruments shaped like a shovel, elephant, pig, and one made out of an armadillo. The Guitar faces I-81, directly across from TN Welcome Center. the address 3245 W. State St., Bristol, TN.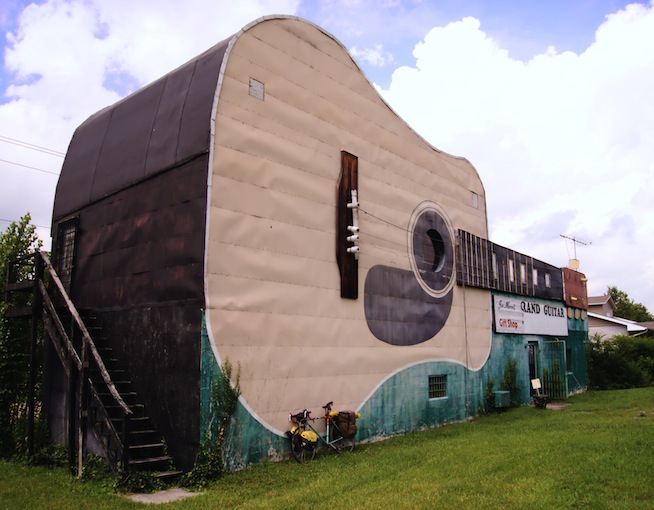 WOPI's own unique identity still shines through every week in local broadcasts of Bristol Tennessee High School Football and Basketball, local Bristol newscasts, a local religious program every weekday, and seventeen hours of old-time country, bluegrass, and gospel programming originating each weekend. This weekend programming originates from WOPI's auxiliary studio at the "Grand Guitar" on West State Street in Bristol, Tennessee, "The Birthplace of Country Music."
Bristol and WOPI was where the legendary Tennessee Ernie Ford got his start.
Find the Grand Guitar on Google Maps