One hot August day in the late 1960's near Palmyra, Tennessee, E.T. Wickham put down his trowel from working on the statue of Civil War heroes Sam Davis and Bill Marsh. After resting in the shade for awhile, he walked to a nearby hickory tree and tacked a small wooden sign to it. The sign read:
Folk Artist
Enoch Tanner Wickham  1882–1970, was a self-taught folk artist who built life-size concrete statues along a rural road in Palmyra, Tennessee. Wickham began his creations in 1950 at the age of 67 after retiring from being a tobacco farmer and raising nine children.
The first statue Wickham built was of the Blessed Virgin Mary crushing a snake under her feet. More statues followed of Tecumseh the Indian Chief, and of World War I hero Alvin York. In 1961 Wickham built an equestrian statue of Andrew Jackson. One of his largest statues was a Memorial to honor his son Ernest Wickham and other local soldiers of Montgomery County, Tennessee who died in World War II. Wickham continued building statues until his death in 1970. By that time, he had built over forty statues using only simple materials of chicken wire, rebar and concrete.
In 2001 the Customs House Museum in Clarksville, Tennessee had a yearlong exhibition of his work. Today some of the statues still stand along Buck Smith Road in Palmyra in spite of much aging and vandalism.
As told by Jack Wickham , Grandson of E.T. Wickham …
My Dad, Harvey Wickham, son of E.T., told me this story when I was in High School. I asked him what was E.T.'s first work of art, and he said that the earliest thing he remembered was when E.T. bought a farm on Sadlersville Road in Robertson County sometime in the 1920's. E.T. lost the farm in the 1930's Depression and moved back to the old Palmyra homeplace. The story from Dad goes that the mailman did not show up everyday with the mail. E.T. accused the mailman of holding his mail and only coming to the end of the road to their farm every other day or two. E.T. said the mailman was too lazy to ride his horse the extra half mile down the road to the Wickham farm. The mailman took offense and said it wasn't true. E.T. said he thought the man was lying. Finally the mailman said "Tanner, if I never see your face again, it will be too soon." Whereupon, the mailman turned and rode off down the road.
Afterwards, in a moment of inspiration, E.T. went around the back of the house, and in a low area in the back yard that was mostly clay, E.T. poured water onto the ground, and worked up a clay puddle that was pliable but firm. Dad said that when E.T. had it in the right consistancy, he stuck his face in the mud slowly, and then pulled it out slowly. He let it dry for the afternoon, then mixed cement and poured it into the clay mold and let it set overnite. The next morning, he pulled the concrete cement out to reveal a mold of his face. He worked it some to fill in the gaps, painted it in his likeness, and then attached it to the front of the mailbox. Now the archenemy postman had to look at E.T.s "face" everyday while making his duly appointed delivery rounds. Soon afterward E.T. began sculpting concrete decorations and statues.
Who would have thought an angry exchange between E.T. and a mailman would have lead to his statues being on display at the 1982 World's Fair!
According to Stacy Smith Segovia, of the Clarksville Leaf Chronicle, "The sculptures have since become known as one of only seven folk art sites of this size and importance in the country."
These statues were built of concrete, which Wickham, a self-taught artist, applied over rough metal armatures. He used whatever he could find, from abandoned bed rails to iron poles. He tied these together with electrical cord and attached wire mesh, rolling it into tubes for arms and legs. The concrete surfaces were built up with many layers, with the details (pockets, cuffs, etc.) inscribed directly into the wet surface. Wickham then used bright ready-mixed colors of commercial grade oil and latex paints. While he was alive, Wickham kept the pieces protected and refreshed with coats of paint. – https://ucda.com/wickham.lasso
Statue Relocation
Ten of the statues from E.T. Wickham Stone Park have been moved from their original location to Oak Ridge Road for better protection against vandalism. This new dramatic setting is high-up on a ridge, allowing an unrestricted view of the pieces. Due to time and vandalism, the sculptures have taken on a classic presence reminiscent of ancient statuary. Five pieces remain visible at the original site at the turnout on Buck Smith Road and several more, including the log cabin home, are hidden by thick undergrowth across the road.  – 

Phil Pasquini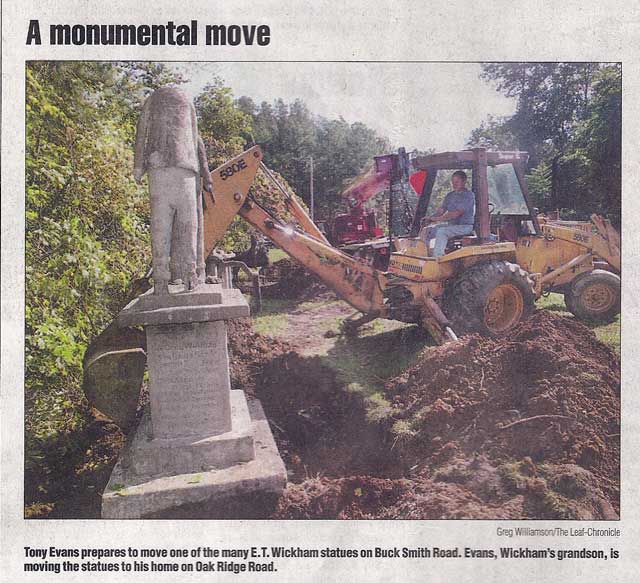 Joe Schibig, Wickham's grandson, recalls, "While my grandfather was alive, he took better care of his statues than his house or yard because making statues and displaying them to the public were of utmost importance to him. It kept him physically and mentally strong into his eighties, but eventually age caught up with him."
The statues were originally built along both sides of Buck Smith Road. Almost all the statues on the north side of the road are memorials to individuals or events, many of which sit on bases that contain messages appropriate to the work.
Notes on the above sculpture – "Wickham's only existing self-portrait, of himself riding a longhorn bull, also demonstrates his sense of humor. Undocumented, but remembered by Michael Dinsmore, who was a boy at the time, as being created soon after the York and Jackson works, the bull had electrified light bulbs in his eyes and a red light bulb under his raised tail.
The inscription on the statue's base states: Headed to the Wild and Woley [sic] West, Remember Me Boys while I am Gone.
For more information follow the Wickham Stone Park Facebook group
More Clark Thomas of Wickham Stone Park photos can be found at http://www.simplephotographs.com/wickham/ 
AyJay Schibig has a detailed blog at http://etwickham.blogspot.com